The 4G LTE network has been adopted by many countries and enterprises for their mobile communication needs. It is a high bandwidth network that enables new applications and services to run on it other than the traditional voice and SMS services.
However, are we able to create a very specific command and control and real-time Push-to-Talk (PTT) voice application experience on a shared consumer 4G LTE network?
Just some background to begin with, GRID's forte has always been a provider of critical Push-to-Talk communication solutions to both government and enterprise users. This varied experience and constant interaction with our customers have motivated us to develop new PTT solutions that puts us at the forefront of the local PTT industry. After extensive research and much investment, GRID has proudly developed an integrated One Vendor solution which will become a refreshingly comprehensive PTT experience on a 4G LTE network.
The culmination of it all is GRIDTalk.
GRIDTalk is the only PTT solution with a high priority dedicated service on Singapore's largest 4G LTE network within a fully compatible ecosystem that is not offered by any Push-to-Talk service provider in Singapore currently. It is a custom built PTT service that takes into consideration the full end-to-end PTT performance in the form of a secured and advanced work tool. Suffice to say, this breakthrough will not be possible without the support of our customers, sponsors and partners.
GRIDTalk brings together core benefits such as dedicated network access, 256 AES security encryption, unlimited private/group calls/PTT alerts and enterprise cost control over tariff cost management with a dedicated handset. Additional add-ons such as GRID Dispatcher, Cross Enterprise and remote security features are also available for businesses in a growing PTT market with increasingly more complex needs.
What are the Key Features in GRIDTalk?
Unlimited Private Calls
Unlimited PTT Alerts
Unlimited Group Calls
Emergency Call
Ad hoc Group
Call History & Replay (24hours)
Chat & File Attachment
Priority Network Access for Push-to-Talk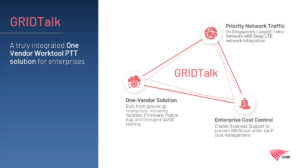 To find out how this new solution can potentially bring your business to the next level, get in touch with our sales representatives today for a non-obligatory chat! grid.net.sg/customer-service/contact-us/